History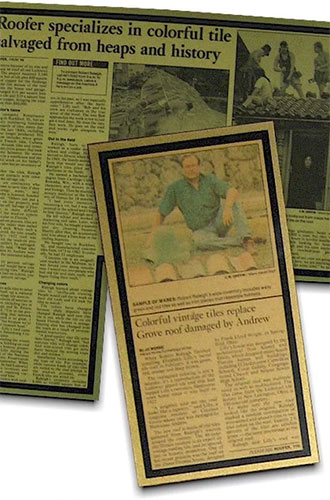 A brief history of Renaissance Roofing, Inc.
Over four decades ago, Robert Raleigh Jr. conducted his first business to business historic tile transaction. At that time, the concept of salvaging and re-using historic tile and slate roofing products hadn't been an option for roofing contractors and homeowners alike.
Being a pioneer in the salvaged tile and slate roofing industry, Robert Raleigh's initial concept has blossomed into a multi-million dollar, full service industry that has succeeded beyond his wildest dreams.
Today, Renaissance Tile and Slate is continuing this family tradition in tile and slate material sales and acquisition. Conveniently located in the Midwest, Renaissance Tile and Slate provides a wide range of services from purchasing and salvaging historic tile and slate roofs, to offering obsolete and hard to find products for resale to homeowners and roofing contractors, and to general services such as consultation, general research, and information gathering.
Renaissance Tile and Slate has one of the largest physical inventories of new and salvaged clay tile, concrete tile, natural rock slate, and man made slates throughout the United States. At any given time, our inventories exceed well over one thousand squares of material with tens of thousands of correlating trim accessories. We have on hand, tile and slate which dates back to the 1800s and right up to present day, current production materials.
Not only does Renaissance Tile and Slate have one of the largest inventories of tile and slate roofing materials in stock, we also have access to literally tens of thousands of squares worth of materials from other companies engaging exclusively in this business as well. Being part of this small community, we have access and are in direct contact with all major suppliers throughout the United States in order to quickly and efficiently take care of your specific requirements.
With such a rich history in this industry, the personnel at Renaissance Tile and Slate are considered to be the foremost experts in thoroughly understanding the products they offer as well as products that are considered obsolete.
Along with being one of the largest suppliers of historic and current tile and slate roofing products in the United States, Renaissance Tile and Slate has combined its efforts with our full service tile and slate roofing division, Renaissance Roofing, Inc. as well as our architectural sheet metal division, Victorian Sheet Metal. The combined efforts of these three companies assure our clients an experience in the tile and slate roofing industry that is surely second to none.